Lush, subtropical native forest, playful New Zealand fur seals and a startling array of birdlife.
The Abel Tasman National Park's native birdlife is growing in numbers and variety due largely to the conservation efforts that have been made over the past 15 or so years. The birdsong throughout the park, but particularly in areas where predator numbers have been controlled such as on Adele Island, can be awe-inspiring.
The Park's flora is largely made up of native New Zealand beech forest. Throughout the Park, the bush is regenerating at an accelerated rate due to the eradication of wilding pines and other unwelcome plant pests.
Making up the fauna of the Abel Tasman National Park are seal colonies scattered throughout the coastline. Pods of dolphins are regular visitors to the waters along the Abel Tasman, and small pods of Orca sometimes make a welcome appearance.  The Tonga Marine Reserve, which stretches northward from Bark Bay to Awaroa, is helping marine creatures flourish both within and outside of the Reserve.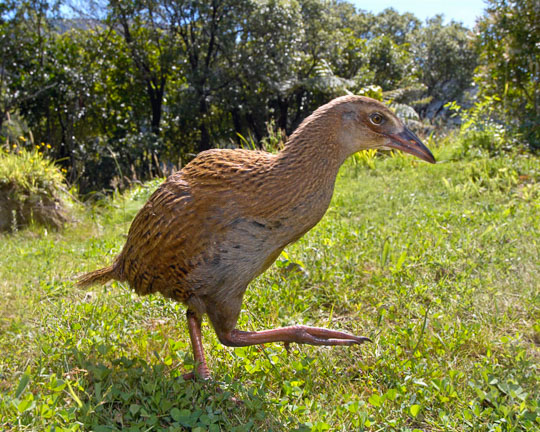 Weka
The most common flightless bird in the Park, can sometimes be mistaken by the uninitiated for Kiwi. These sturdy brown birds are also known as woodhen and can be seen scavenging for food around camp sites. They have an extremely funky walking motion, the imitation of which can result in hours of fun. Their necks bob forward as they walk, then they will stop to gaze from side to side before resuming the neck bobbing.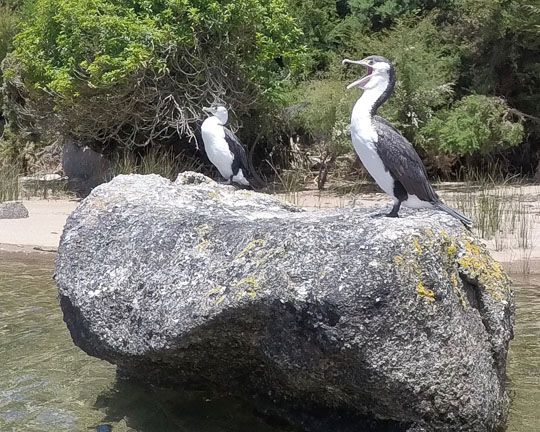 Shags
These birds (Aka Cormorants) roost in trees but can be found along the beaches and rocky foreshores of the park. Tree roosting is relatively unusual for web-footed birds, and is only shared by Pelicans, Frigate Birds and Boobies. Fledglings that have fallen from the nest but are unable to return can often be seen at Split Apple Rock. These are often mistaken by the unwary for penguins!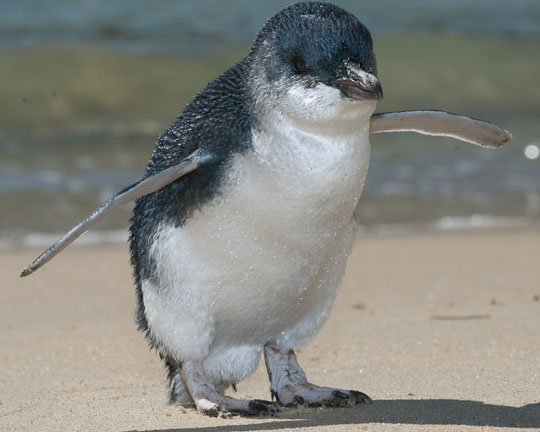 Little Blue Penguins
The world's smallest and the only penguin species found in the Park. Like all penguins, they nest on land, in burrows often on rocky headlands. They spend their days at sea foraging for small fish, squid and larvae, individually or in small groups. They congregate in rafts close to shore at dusk and after calling to each other, come ashore each night. The main rookeries are thought to be on the outside of Adele and Fisherman Islands.
Oystercatchers
Oystercatchers will often be encountered on the beaches of the Abel Tasman. Although they breed inland they can be found feeding and chasing visitors along beaches to protect their young.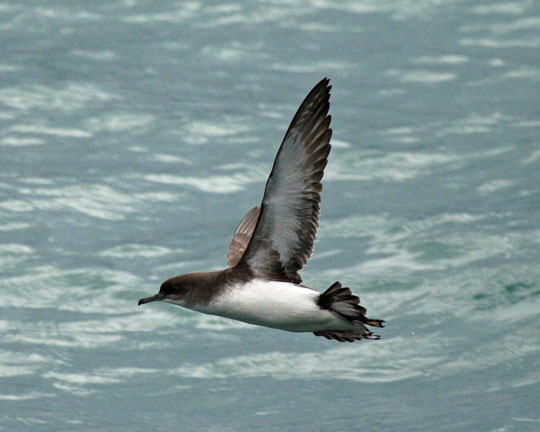 Fluttering Shearwaters
One of the most common seabirds found along the coastline in late summer and winter. They can be seen either ravenously feeding around Kahawai schools on baitfish and crustaceans, or resting in rafts of hundreds or even thousands. It is thought that pre-breeding birds migrate across the Tasman, spending February to August on the South East coast of Australia. The nearest colonies are on Trio and Long Islands in the Marlborough Sounds.
Fantails
Fantails are known for their friendly 'cheet cheet' call and their flitting-style energetic flying antics. These are one of the most common and widely distributed native birds on the New Zealand mainland. It is easily recognised by its long tail which opens to a fan. Old outdoor types will tell you stories about how Fantails are the guardians of the bush and have been known to throw themselves onto burning matches to prevent forest fires!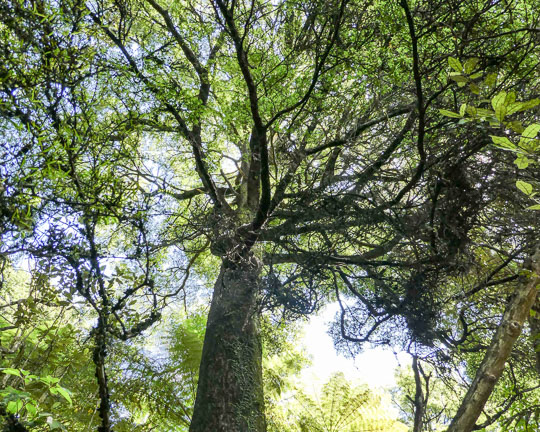 Beech
Hard Beech and Black Beech are the two most common forest species in the park. Beeches are an attractive tree and their picturesque canopies create wonderful shapes along the rocky coast.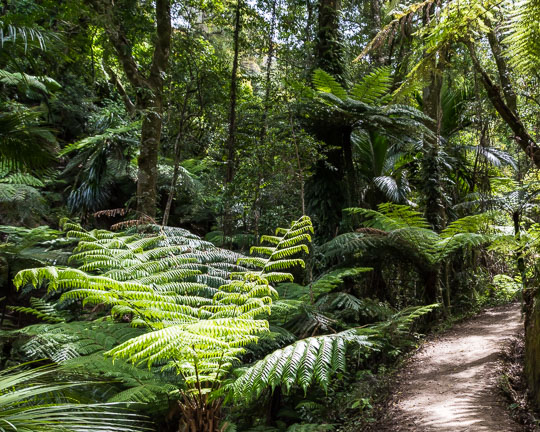 Ferns
We New Zealanders are so enamoured with our ferns that we tend to put their emblem everywhere, on rugby jerseys and the like, and on a multitude of brands. Having said that, in 2016 New Zealanders did vote against putting it on our national flag!  The ferns in the park range from giant trees 20m tall with fronds 5m long to minute ferns just 1 cm tall. The Silver Fern (Ponga) is our national emblem.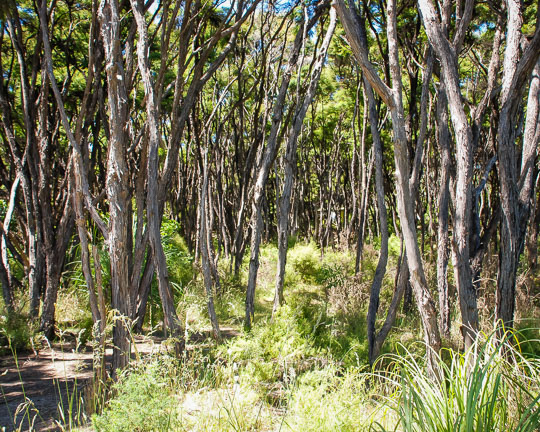 Mānuka and Kānuka
Mānuka and Kānuka are two of the most common plants in New Zealand. They are often linked as one species, but in fact are in different genera and usually grow in different habitats.  They are similar in being able to regenerate through grassland on lightly grazed hillsides and hence have the reputation as weeds. Ecologically, however, they are important early stages in forest regeneration and are very important bird, lizard and insect habitats as well. Because they are aromatic they both burn very easily.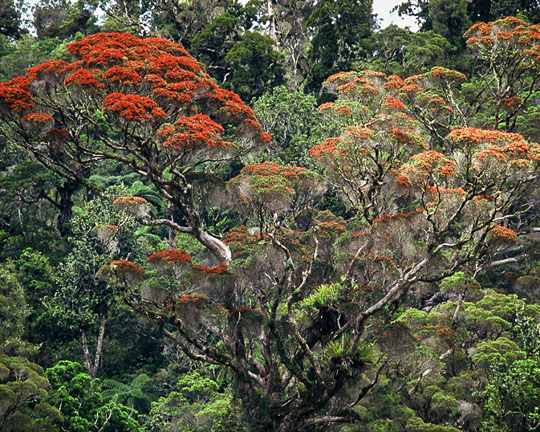 Rātā
Rātā are more common in the northern part of the park where it grows into large trees.  Rātā flower spectacularly every few years, covering the canopy briefly in red and providing huge supplies of nectar for birds.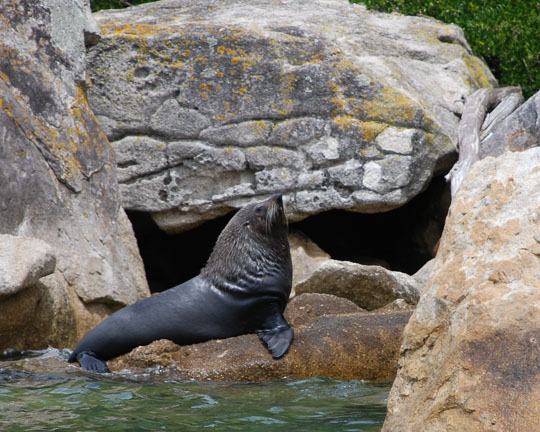 Fur seals
You are bound to encounter New Zealand fur seals during your visit to the Abel Tasman. The largest seal colonies are at Tonga and Shag Harbour in the north of the park and the relatively new hang-out spot at the northern end of Adele Island in the Astrolabe Roadstead. They love to sunbathe but are often hard to spot because they're camouflaged against the grey granite boulders on which they are laying.
Technically, these are 'Eared Seals': fin-footed carnivorous marine mammals distinguished by visible external ears and hind flippers which rotate forward. Adult females grow to a maximum length of 1.5m, and weigh 30-50kg. Adult males grow to a maximum length of 2.5m and weigh 90-150 kg.
Seal pups are famously playful and curious. Male bull seals are notoriously grumpy and move surprisingly swiftly given their massive weight and size. Luckily, they are not adept at climbing trees and they give up chasing if you can move swiftly enough for long enough.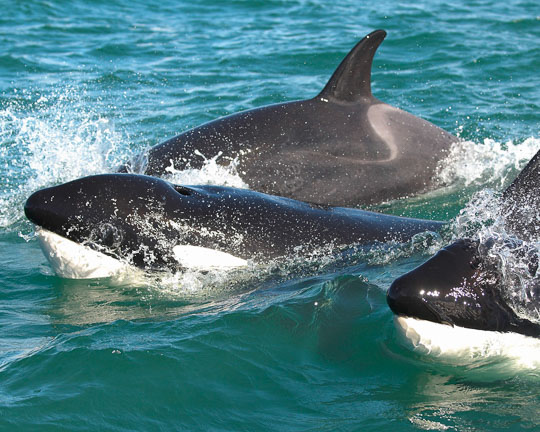 Orca
Orca are the largest of all dolphins and unmistakable in black and white. They have large paddle shaped flippers, with the male dorsal fin much larger than the smaller females. They are the most widely distributed of all mammals in the world. Orca are generally found in deeper areas, but can make forays into shallow waters and inlets.
They form tight family groups, and the New Zealand population of which there are thought to be less than 200 individuals are separated into a North Island, a South Island and a transient group ranging between islands. It is uncertain what population our visitors to the Park come from. At the top of the marine food web, they are generalist predators, feeding on a great many species from whales, other dolphins, seals, sharks, rays, large fish and more. They appear to be feeding on rays when in the shallow Abel Tasman waters.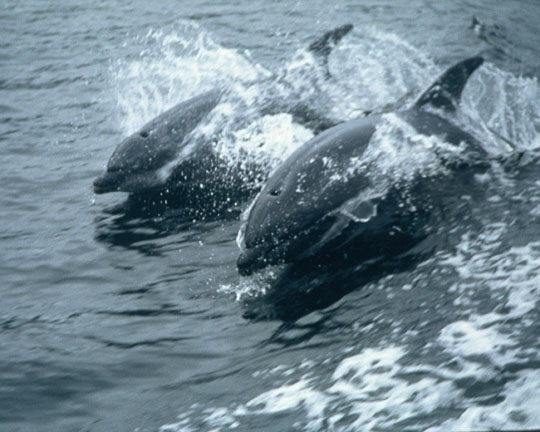 Bottlenose Dolphin
Bottlenose Dolphins are a large light grey dolphin that grows up to 4m in length with a pronounced beak and large hooked dorsal fin.
The ones seen in the park are thought to be from the Marlborough – Westport group. Other coastal groups are around the Bay of Islands area and a small group exists in Doubtful Sound.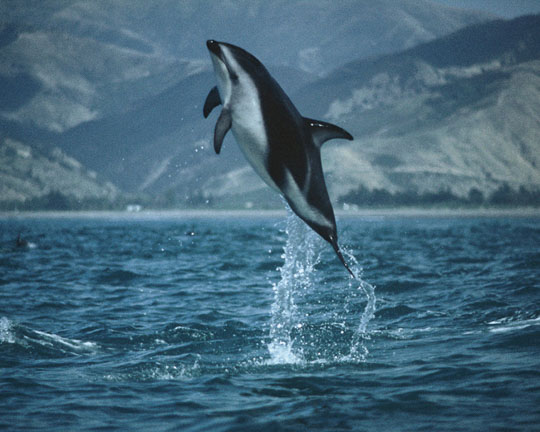 Dusky Dolphins
Dusky Dolphins are a small dolphin growing to around 2m long. They are a bluish black and white with a blunt dorsal fin. They are only found in the southern hemisphere, off South America, South West Africa and New Zealand.
Our populations only tend to be south off East Cape, with strongholds in Kaikoura and Admiralty Bay in the Marlborough Sounds. Often seen in the Park during autumn and winter in pods of up to 20, they are typically a coastal species.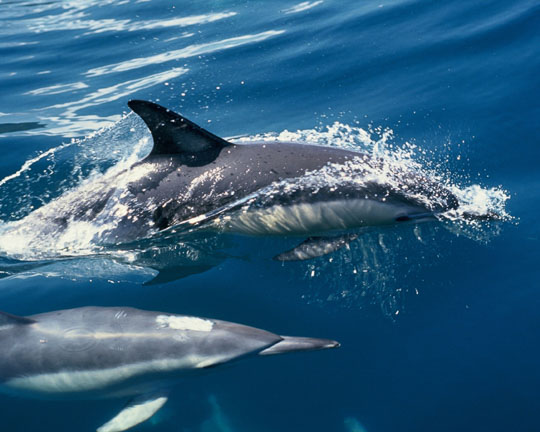 New Zealand Common Dolphins
New Zealand Common Dolphins are a medium sized yellowish beige and grey dolphin with short beaks. Long beaked commons prefer tropical water. Common Dolphins are the most numerous dolphins in the warm, temperate waters of the Atlantic and Pacific.
They can be observed in pods of thousands feeding offshore. They can be seen in the Abel Tasman during the warmer months and tend to head offshore in winter.