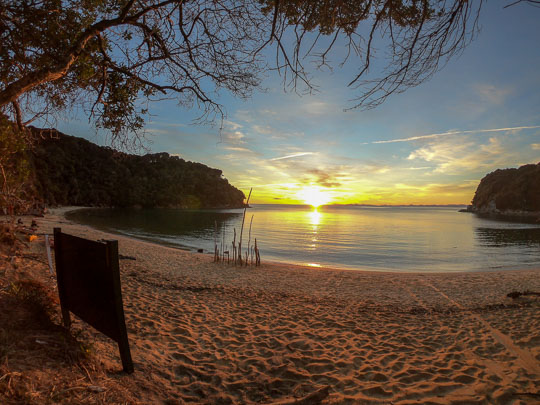 Camp Out
Spend the night in the Park!
Day trips in the Abel Tasman are awesome, but many of the truly magical moments happen when you're camping beside the beach making – it's a must do! The sunsets and sunrises are incredible and there is a sense of peace and tranquillity from camping in the great outdoors that's hard to put into words. The most tranquil times each day are in the mornings and at dusk, and you can only experience those windows of complete serenity when you're staying in the Park.
Go Kayaking
The Abel Tasman is one of the world's premier sea kayaking locations.
Even if you've never paddled before, the Park is a great place to try kayaking for the first time.  Gliding through the water at your own pace is a great combination of exercise and relaxation. Kayaking also lets you get nice and close to the coastline and the local wildlife, without creating any disturbance.  If you head across to Adele Island you will hear birdsong quite unlike anything you may have heard before. Adele is a predator-free haven for native birds, and they love to sing!
Go for a Swim!
Safe beaches and crystal-clear freshwater swimming spots.
From about November to April the waters along the Abel Tasman coastline are a great temperature for a dip. Because we don't generally get any surf or strong currents, the Park is full of safe swimming beaches. For young family members, there are many shallow, sandy estuaries to play around in. The best fresh water swimming spot is Cleopatra's Pool which includes a completely natural rock water slide. You can reach Cleopatra's pool by taking a side trip (walk) from Torrent Bay or Anchorage.
Rent Some Local Knowledge
Hang with the locals!
The Abel Tasman is full of people who love their jobs, and those jobs are generally showing off their little slice of paradise. Local water taxi skippers, kayak guides and others working in the visitor industry know a lot about the local history and ecology. Joining a guided trip is a fantastic way to tap into this local knowledge and to get much, much more out of your experience. If you're on a water taxi trip, your skipper will tell you some stories and point out some of the amazing natural wonders of the Park.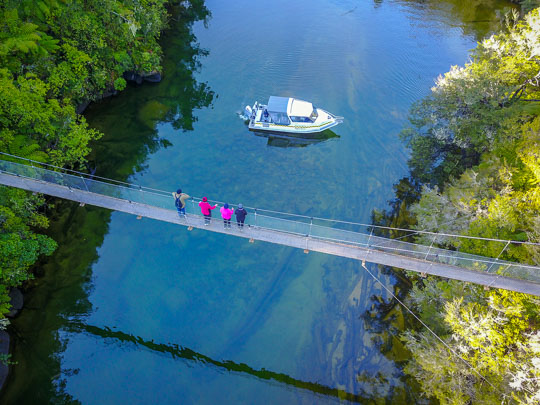 Walk Across the Swingbridge
High above Falls River, hangs one of the most iconic Swingbridges in

New Zealand

.
The Falls River Swingbridge, located between Bark Bay and Torrent Bay provides amazing views down Falls River. The water below reflects the lush native bush that lines the banks of river and gives the whole spot a deep green hue. The bridge and the views down the river are often photographed by visitors, and for good reason.