Accommodation in Nelson city
Stay in Nelson city – experience the local city lifestyle
Stay close to the hub & experience all that Nelson has to offer from art galleries to restaurants to the famous Saturday Market.
Tasman Bay Backpackers
Stay in Nelson at our hostel is family-run, purpose-built, spacious, very clean and homely hostel.
Just like your favourite cafe, we have great music and friendly, genuine people. Everyone says it has a nice feel to it. We're just five minutes' walk from the main street – far enough away to avoid city noise but close enough that it's an easy walk to shops, cafes, etc.
The Hotel Nelson
Hotel Nelson is centrally located offering a variety of Accommodation from Studio, Superiors, through to 1 to 4 bedroom apartments. 
To complete your stay enjoy the Flames on 40 Restaurant Bar – a locals favourite to dine at.  Heated Swimming Pool, BBQ Area and lockable bike storage available too
The INNBetween Lodge and Backpackers
The INNBetween Lodge and Backpackers is the accommodation of choice in Nelson for travellers, families and groups from all over the world due to our seasonal affordability and our luxury backpackers comfort. 
Guests adore our contemporary industrial backpacker vibe. We are handily located in central Nelson, next to the stunning Cathedral – you can't miss it! Everything is within walking distance, and it's just a 15-minute drive from Nelson Airport. We have a range of shared backpacker and private room options to suit the budget traveller through to the luxury glampacker in central Nelson. Enjoy free Wifi, spacious bathrooms, and fully equipped kitchens.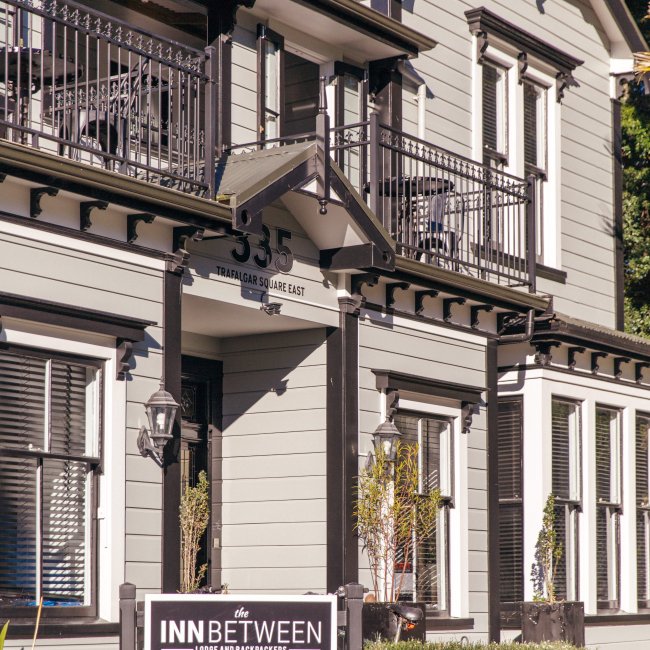 Nelson City TOP 10 Holiday Park
Nelson City TOP 10 is the perfect place to base yourself while exploring the Nelson-Tasman region. 
You can visit the fabulous WOW museum, the geographical centre of NZ, award winning wineries, boutique breweries, thrilling mountain bikes tracks and of course the Abel Tasman National Park. Nelson is also home to some amazing crafts people and the highlight of the week is the Nelson Market which is on every Saturday morning, rain or shine.
Rutherford Hotel Nelson
Welcome to Rutherford Hotel Nelson ~ A Heritage Hotel. 
"Experience the best of Nelson"