Water taxis provide quick and convenient access to the six major bays along the spectacular Abel Tasman coastline. A trip in one of these smaller boats, past the succession of wide sweeping bays, is a quintessentially Kiwi experience.
Built specifically for this coastline and unique tidal conditions, these boats get you access to the Park's secret spots, spectacular marine life and even into bush-fringed tidal inlets. Our Water Taxi sea shuttle service transports people in and out of the Abel Tasman National Park all year round.
The area is fortunate to have a number of different operators. AbelTasman.com is a collaboration of the ONLY water taxi companies – Abel Tasman AquaTaxi & Marahau Water Taxis – to operate out of Marahau; the gateway to the Abel Tasman National Park and the beginning of the Coast Track.
Booking a Water Taxi into the Abel Tasman has never been easier
Our online booking service lets you design your own trip and receive instant confirmation.
Select your origin/starting point and your destination
Select number of passengers, date and time.
We will confirm your booking and issue your tickets
Please select your origin and destination:
To make a booking for Torrent Bay please call us on 0800 278 282
Quick One Way Water Taxi Info
Marahau to Anchorage   $48   ~45min
Marahau to Bark Bay       $52   ~1hr
Marahau to Onetahuti     $54   ~1hr 15min
Marahau to Awaroa         $57   ~1hr 30min
Marahau to Totaranui      $59   ~1hr 45min
Adventure Trips in the Abel Tasman National Park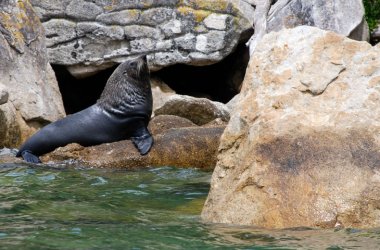 Walking & Hiking | Full Day
Return water taxi and walking trip: Water taxi to Torrent Bay, walk the scenic Abel Tasman Coast Track to Onetahuti (4hrs).
Book Now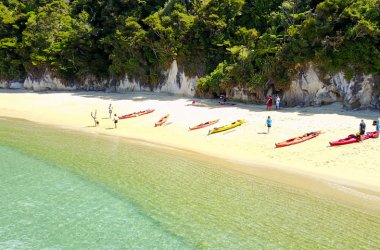 Guided kayak tour: Explore the wonders of the Tonga Island Marine Reserve in your kayak.
Book Now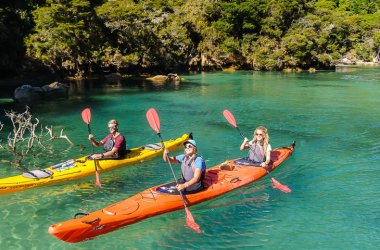 Guided Kayak & Walk | 3 Days
Guided kayak trip: Explore the entire Abel Tasman Coast with the ultimate combo of water taxi rides, walking, guided and freedom kayaking.
Book Now
Scenic Cruise & Charter
Stay on the boat and let your skipper show you the sites along the length of the Abel Tasman coast
or charter a water taxi and design your own day out in the park!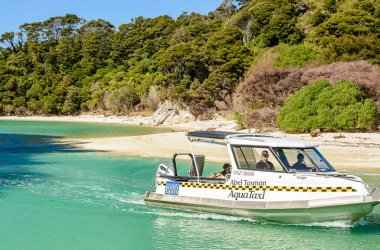 Special charter services available upon request
Book Now
Return water taxi trip: Scenic round trip visiting all points of interest along the sparkling bays and golden beaches of the Park.
Book Now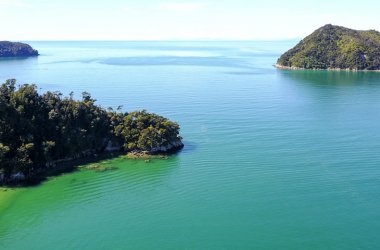 Return water taxi trip: Cruise from Totaranui to Marahau for a brief look around before returning to Totaranui.
Book Now
Proud to be a certified Zero Carbon  business
We offset 100% of our emissions, and make a contribution to local conservation projects on behalf of each customer. When you travel with us on a water taxi, you are helping to plant native trees, restore waterways, build climate resilience, and restore our biodiversity.
Find out more about our commitment and journey towards sustainable tourism
Learn about the  Environmental Access Fee (EAF) – the portion of your ticket price that goes directly towards preserving the unique environment you enjoy in the park.