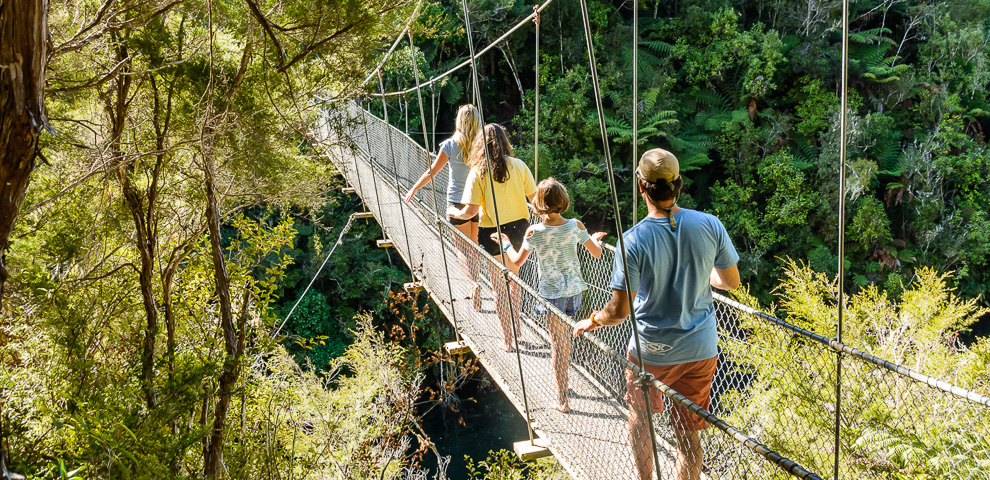 Combine a beautiful coastal walk between Torrent Bay and Bark Bay and an exhilarating kayak back to Anchorage.
Book Now
Availability: Oct - Apr
Summer Departure(s): 8:30am
Trip duration: Full Day
Ideal for: Combining a walk and kayak in the middle of the Park
Activity level: Challenging
Cruise info: Marahau to Torrent Bay: 45 min. Anchorage to Marahau: 45 min.
Walk info: Torrent Bay to Bark Bay: 2.5 hrs
Kayak info: Bark Bay to Anchorage: 2 hrs
Paddle & Walk
Water taxi into the heart of the park to Torrent Bay in the morning. Walk the beautiful coastal track between Torrent Bay and Bark Bay, including crossing the Falls River Swingbridge. Eat your lunch at Bark Bay and meet your guide before kayaking south to Anchorage. You'll get a new perspective of the amazing beaches and bays you viewed from the water. Catch the 4pm water taxi from Anchorage back to Marahau.
What's included in this tour?
Items that are included in the cost of tour price.
1 day kayak hire
Optional lunch $15
Water taxi transfers for you and your kayak
Itinerary
Water taxi from Marahau to Torrent Bay
Walk from Torrent Bay to Bark Bay
Kayak from Bark Bay to Anchorage
Water taxi from Anchorage to Marahau
For group bookings requiring transport between Nelson, Motueka and Marahau please give us a call on 0800 80 80 18 to add bus transfers to your booking.
Important Notice:
From December 3rd, New Zealand moved into the new COVID-19 Protection Framework, or traffic light system. We are required to adopt this new framework in order to remain open and also to keep everybody safe. Therefore from December 3rd all customers older than 12 years and 3 months will need to present their My Vaccine Pass before they can use our services. The new Protection Framework also requires that we adhere to the regulations outlined for each of the three levels; red, orange and green. For more specific information about COVID-19 Protection Framework please visit this
link
. Thank you for your understanding.