ABEL TASMAN COASTAL TRACK INFORMATION
We've put together a quick reference page for walking and kayaking times along the Abel Tasman Coastal Track. Below you'll find a map and some other essential information for planning your trip. It's important to check the weather, tides and walking / kayaking times to get the most out of your time in the Abel Tasman.
Tide times at Awaroa Inlet must be checked carefully. The inlet may only be crossed within 1hr 30mins before and 2hrs after low tide so please make careful note of these times. Outside of these times the crossing is dangerous. There are other tidal crossings in the Park (Torrent Bay, Bark Bay) but all have alternate high tide routes. You can check the Abel Tasman tides here and check the weather in the Abel Tasman here
WALKING TIMES
Mārahau – Anchorage Hut                       3-4hrs 12.4km
Anchorage Hut – Torrent Bay
                     Low tide route                        20 min 0.9km
                     High tide route                       1-1.5hrs 4km
Torrent Bay – Bark Bay Hut                       2-3hrs 7.8km
Bark Bay Hut – Onetahuti                          2hrs     6.1km
Onetahuti – Awaroa Hut                            2.5hrs 7.1km
Awaroa Hut – Tōtaranui                            2.5-3hrs 7.1km
Tōtaranui – Whariwharangi Hut               3.5hrs 9.8 km
Whariwharangi Hut – Wainui Car Park    2hrs 5.7km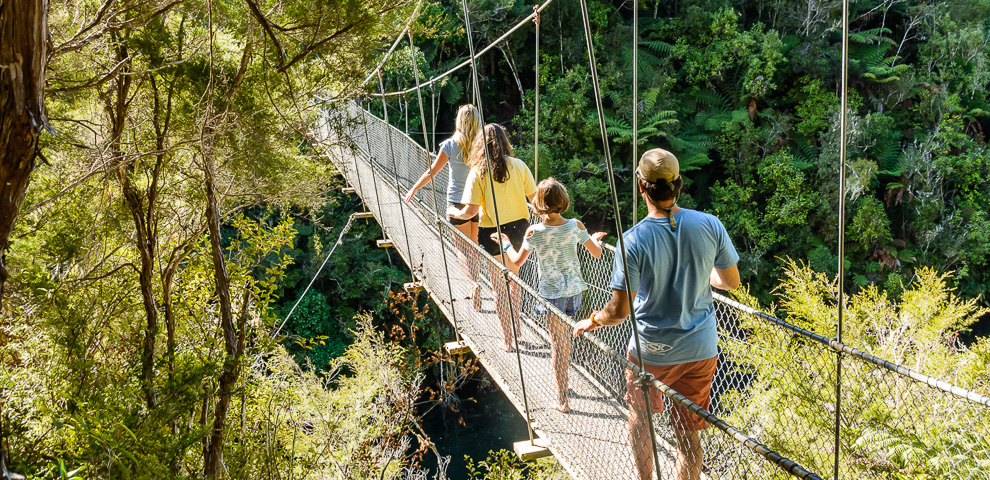 Tinline Nature Walk (Tinline Bay)             20 min return
Pitt Head loop                                             40 min – 1.5 hrs
Cleopatra's Pool                                          40 min return
Falls River Falls                                           3hrs return
Separation Point                                        1hr return
Tōtaranui to Whariwharangi                     3hrs (Gibbs Hill Track)
KAYAKING TIMES
Mārahau – Observation                               3hrs
Mārahau to Anchorage                                4hrs
Anchorage to Bark Bay                                2hrs
Bark Bay – Onetahuti                                   1.5hrs
For more details of attractions along the Abel Tasman Coast Track walk please read our Guide to the Abel Tasman Coast Track
Be prepared and enjoy your adventures in the park!